Ci-dessous, quelques articles personnels sont à vendre.
Les photos montrent le contenu exact de chaque article.
Paiement par chèque, Paypal ou virement bancaire / Expédition dans le monde entier / Frais de port en supplément
Above, some personal items are on sale
Pictures depicts exact content of each item
Payment by Paypal or Bank Transfer / Worlwide shipping / shipping costs added
CONTACT : COMMANDE / ORDER:
NEW / NOUVEAU - LAST UPDATE 16/05/19 - 14H15
FOLLOW THE NEWS OF "ZONE B" ON



KAWASAKI ZX-RR - 1/12 Detail Parts
HONDA RC211V TEST 03' Daijiro Katoh - 1/12 Decals
MAZDA MXR-01 LM92' - 1/12 Full kit
Et de nouveaux articles bientôt / And more products soon
PEUGEOT 206 WRC Rally GB 02' V. Rossi - 1/24 Decals
SUZUKI RGB500 GALLINA - CARTOGRAF Decals
HONDA RC211V Repsol 06' + Front Fork Set
Voici un aperçu des kits vendus en 2018. Merci à tous pour votre confiance.
Here is an overview of the kits sold in 2018. Thank you all for your confidence.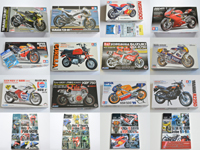 DUCATI GP6 - 1/12 Transkit
YAMAHA YZR-M1 "Pacific GP" 03' - 1/12 Transkit
HONDA RC166 + Full Options
HONDA NSR250 91' - 1/12 Decals
HONDA RC211V Repsol Valencia 03' + Front Fork
KAWASAKI KR500 - CARTOGRAF Decals
DUCATI GP7 07' C. Stoner / L. Capirossi - 1/12 Transkit
SUZUKI RGB500 HERON - CARTOGRAF Decals
YAMAHA YZR-M1 05' Laguna Seca
YAMAHA YZR-M1 09' Estoril
YAMAHA YZR500 AKAI - CARTOGRAF Decals
NISSAN R89C - CARTOGRAF Decals
MITSUBISHI PAJERO Paris-le-Cap + Shunko Decals
BMW R80G/S + HONDA NXR750 + Museum Collection decals
HONDA RVF750 - 1/12 Decals
KAWASAKI H2R Trickstar - 1/12 Decals
HONDA NSR500 Nastro Azzurro - 1/12 Decals
TOYOTA TS050 HYBRID Le Mans 2018
HONDA NSR500 Nastro Azzurro - 1/12 Kit
HONDA NSR500 Pons 01' - 1/12 Kit
YAMAHA YZR500 99' RedBull
CAGIVA C590 - 1/12 Transkit + YZR500 89' kit
RENAULT MAXI 5 Turbo - 1/24 Full kit